I barely got any sleep last night and I'm not sure if it's just insomnia + dehydration: because it's been 35 degrees and up for the past few weeks, or it was that thunder I heard at 5am this morning. At last! A thunderstorm! We have been in desperate need for one in weeks; the grass is dying and I hate the sight of brown dead grass no matter what season it is!
When I finally got to sleep, I had another strange dream about dragons and being their master. This time in fact, I had them flying by my side in this one!
The dream started where for some reason, I made the choice to break into this town house owned by some celebrity. Anyone reminded of that Hands to Myself music video by Selena Gomez? Not that big of a fan of her anymore because I feel like she can't really sing that great these days; but Christopher Mason was hunky as hell in that video!
I was walking around the townhouse looking for something, probably the same things Selena was, but I'm not gonna be roaming the place in lingerie.
As I went upstairs gazing at all the clothes, suddenly I heard the front door open from downstairs and was like: "Shit he's back early! What was a thinking breaking into here to fulfill a fantasy!?" I ran to the bedroom window, and opened it only to find out it had five screens protecting it! I scrambled to open the three layers as I heard the footsteps and jumped out the window just before the bedroom door could open.
Now I definitely remembered what I would chant to transform into my true Dragon Master form: It's gotta be "Golden Dragon Power" Then I sprouted wings and flew away as fast as I could hoping no sirens would be roaring behind me.
Two dragons flew up beside me. I told them I needed to get as far away from the city as possible; I would never go back. Then more dragons began to join me and we soared across the sea and into a portal where my master Wyvern was waiting for me.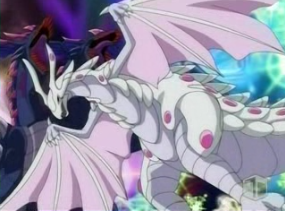 Years ago she had given me the task to stop her twin brother from obtaining the Infinity core, but that all changed when he merged himself with Vestroia's other core. At first it was all about stopping him from reaching his sister, but after he evolved; she gave me the Infinity core being too weak to hold onto it any longer. All he wanted was ultimate power. 
When I told her the horrible deed I just did, she said to me; "We all have our personal desires, but do not let that steer you away from your task. My brother now wants you instead of me and putting yourself at risk with your own kind's enforcement will only endanger their lives as well once he finds the right time to strike."
Preach. Then I proceeded into another portal that would take me somewhere safe and far from that city. They would never find me again. 
I woke up to the sound of thunder after that and went into another deep sleep. Unexpected, but as long as it's got dragons and I can fly then I'm happy.
-Emily