What a fine evening, it's certainly one to spend playing some Skyrim!
I've allowed myself to take a break from writing my book review and just play some games tonight. I usually don't write anything on the weekends unless I have next to no time for it on weekdays.
I saw Beauty and the Beast this week and it was great. It was nice to see they kept all the original songs, filled in the plot holes, portrayed Gaston well, and there was more development in Belle's relationship with the beast. My only criticism was it didn't come out as romantic in my eyes as the original between them (or maybe I'm just saying that because I watched that one the night before!), but I absolutely loved the dancing scene in the ballroom! I have a weakness for the voice of Robby Benson from the original, he reminds me a lot of Chaor. But nevertheless, this live action version of this tale as old as time still gets five stars in my books.
I also finally saw Moana and my God, I loved it! Why didn't I watch it sooner? Great music, great story, great humor humor, and it makes me long for summer and another beach vacation. Moana is like-able right away and Maui is hilarious. Another five star movie for me.
Today was just another day doing chores, and I tagged along with my mom to the mall to get out of the house. I wandered into Sephora to swatch Kat Von D's concealer as I need to replace my own concealer soon. I hope I remember which one was the one that matched when I return for it later. I also want to buy her Alchemist palette. It's funny, it's out of stock on the website but it's in the store here! I almost bought it but was like "Nah, I'll wait until I have more money, and more space on my vanity! Let's use some of the paska we have now up first before we add more to it!"
So much for planning to buy Flowerbomb. After rendezvousing with my mom, I felt a headache and believed it was that perfume after trying it in Sephora. I guess I won't be buying it after all…
Now which one do you think I want?
I also learned that there are mini Disney villain funkos at the game store and Shan Yu is one of the collectibles! You know me, I don't need to collect them all, I just need my favourites! But, I discovered that they were in mystery boxes and I didn't get him in either one of the two that I bought. Fortunately, I found the cute warlord on eBay, so there's a better alternate than buying box after box relying on luck just like I first did when I was trying to get Chaor in my Chaotic card collection! I wish there was a Frollo one too but hey at least some professional organization like Funko FINALLY remembered to include at least one of my two favourite Disney villains, because they get left out too often on the pages and fan art.
Then, this afternoon I was cleaning the bathroom and my iPod started playing Nightwish's
Rest Calm,
I suddenly started to imagine images of dragons and priests either separate or emerged and it made me wonder,
"Am I going to write a song about Miraak now?"
I have no idea why I would do that. I usually do not write songs about fictional characters unless I love them, or am at the stage where I refuse to admit that love is growing despite writing the song makes it obvious. So, it's either that or something else.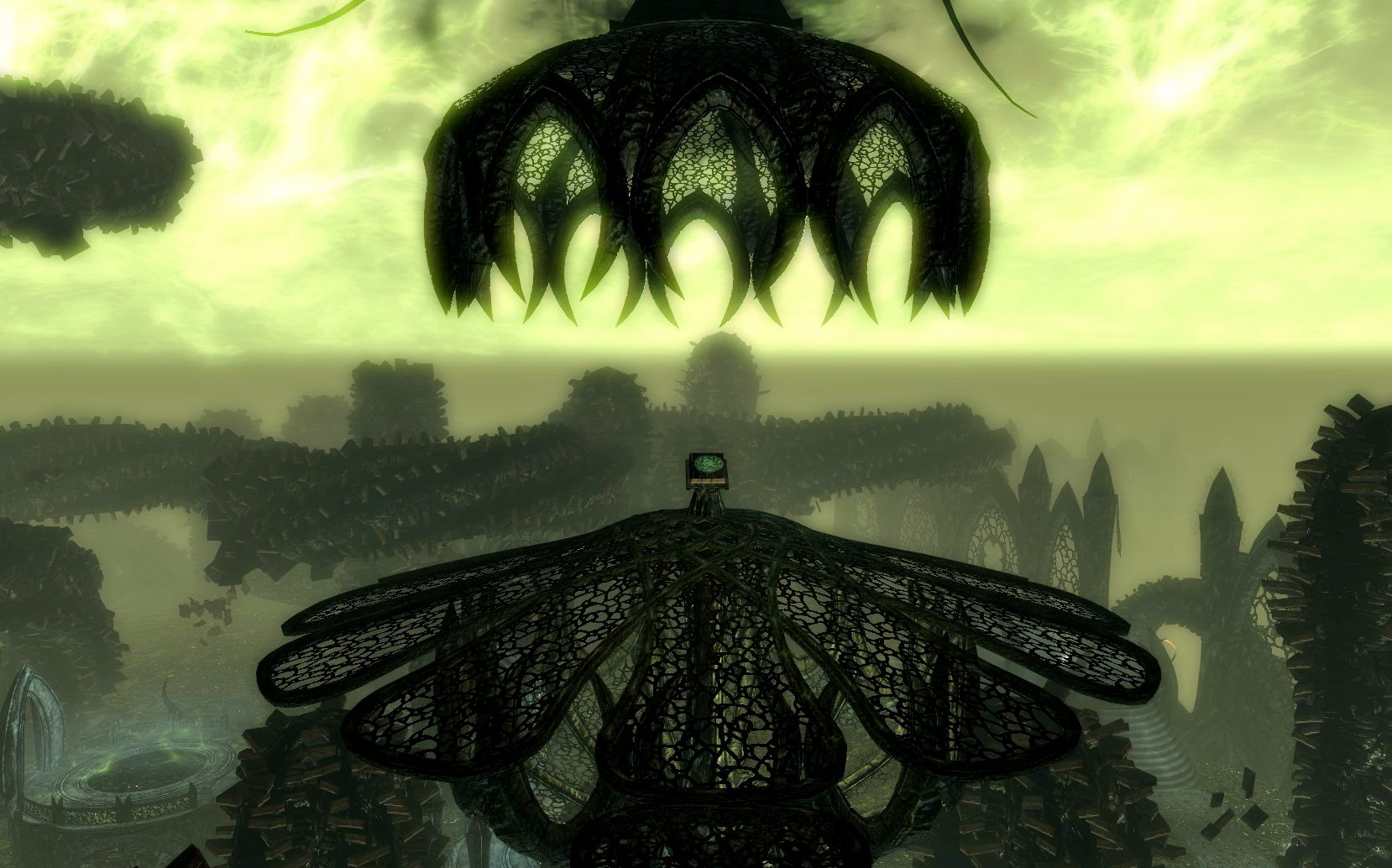 Look, the walls are made of piles of BOOKS!
I'll never look at books the same way again after being in and out of Apocrypha multiple times. Like, a whole structure made out of piles of them. I guess this is what it would look like to store all the forbidden knowledge in all of Tamriel and even Nirn completely. Years ago I would occasionally write random updates where I was in the main quest and now the Dragonborn DLC I am doing it again! I guess that means its my favorite now!
I think I better not listen to that song for a while until after I defeat Miraak, and pretend nothing happened…..oh wait…bleurgh….it might already be too late because I have a long memory.
👽Emily
PS: Yes I'm long overdue to write about ComicCon but once my book review is finished I'll get right to work on it!