Yep, naming this one after a GWAR song.
Something slipped my mind recently, and it happened after I watched Get Smart a few nights ago.
First of all, remember the scene where Max and Agent 99 have to skydive to their location and deal with that big thug along the way? That has always been my favourite scene.
I always have these dreams of flying: sometimes there are obstacles in my way like telephone wires that I want to overcome, I might be flying to escape something/someone, I'm singing the same song [Carolus Rex] every time I fly, or all of the above. Then, there's the matter of the higher I fly, the freer I feel.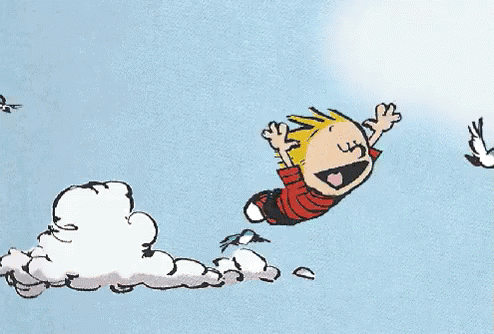 Thing is, skydiving, hang gliding, and parasailing are probably the closest humanity can get to being able to fly. I want some action in my life and I lack the money to make most of those things happen. Can you honestly see me doing any of those things? I can see myself doing the first two, but maybe I'll skip parasailing; if I'm going to be towed by a boat, I would rather be on the water's surface.
I've never really been afraid of heights, I can go on Wonderland's tallest rollercoaster, stand on the glass floor portion of the CN tower (yes I did that once and looked down no less), I sit by the window on an airplane and am not afraid to look out it when we take off. Hell, some of the zip-lines in that course when I went to the Dominican Republic 6 years ago were pretty high! (Coincidentally, my mom and I are going back there on my birthday!)
But, would I be able to handle something this extreme? I've always wanted to fly (and curse whoever makes those pictures for not including a capsule that makes you fly, when they ask you to choose one to take that will give you something nearly impossible to achieve, i.e. riches, no more mental health problems, read people's minds, etc. Y'all are probably scared of heights!) and I'd do anything to feel like I am. The only other extreme sport I've done is skiing mountains, and this may sound like a crazy fantasy, but to me, it's something I want to experience. Whether its once in a lifetime or something I start to do frequently, I want to fly and am willing to do whatever it takes to experience it.
If I really wanted to do this someday, I don't think it should be something I should quickly jump into because of money and lack of experience. I mean, I'm on the brink of graduation, I've got my whole life ahead of me still! If this were to become a bucket list item, I shouldn't have to rush to check it off between the day I finish my program and the day I find a job. I'll still be able to fit it into my life somehow after I get one! In fact, it'll be easier after I start working because then I won't have to worry so much about being able to afford it.
Lucky for me, there is a facility not too far away that offers an indoor skydiving experience. You can buy packages that'll give you training and a certain number of flights depending on which one you buy. The only problems are that it's awfully expensive and requires booking well in advance.
If I were to skydive for real, that place would be a good place to start to get the training. This might be something only for myself because my friends are likely either all afraid of heights or not willing to spend their money on such a thing. I highly doubt my family would be interested in this either. Not just the indoor skydiving place, but also the real deal too. I like to treat myself and I often do with an experience or thing whether it's a new perfume or a trip to the local cinema. For experiences: this might be another big one to add to my bucket list next to a European trip!
You're probably thinking I've lost my mind after reading this, why I'd be considering trying something this extreme? Well, why not? Like I said, I've always wanted to fly, and I've got one life to live and I will make the most of it by filling it with experiences I've always wanted to try. Everyone has their own way of living their life to the fullest: some may want it by raising a family, while others like myself want to see the world and try something exhilarating.
Or, there are people who want both. But me, I just want to fly, whether its with a parachute or glider.
👽Emily