Alright, here goes. It's time for me to talk about The Last Jedi, and I always like to wait a little to give it time. I'm going to try to be constructive here because even as a long-time fan, if there are things that I didn't like, I don't wish to hate. But this movie is far from perfect in my eyes, regardless of what the fans and critics say. Contains spoilers, do not read if you have not seen the movie yet.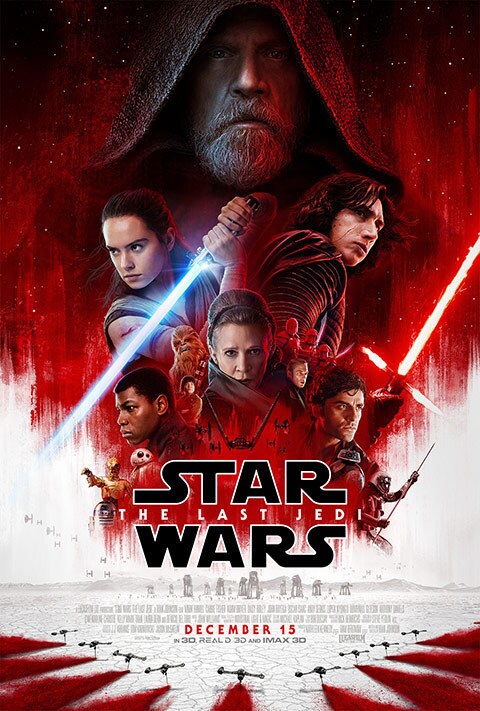 why is everything so red?
So, the story itself is pretty easy to figure out. (Thank God for the crawling text, I swear to God if Disney trashes that, I will be pissed). Rey arrives on the planet Ahch-To to begin her training with Luke, but of course Luke doesn't want to do so because of his past failures to rebuild the Order. Meanwhile throughout the entire movie, the Resistance is pursued by the First Order that have been tracking them, and it goes on forever until they are finally able to turn around and fight. But in spite of that, there were many things that happened that left me with questions. On a positive note, there were some pretty good twists in this movie. Who would have expected Finn and Rose's plan to result in failure, or Luke not physically showing up on Cait like we thought he was?
Twists do make the movie more interesting I'll add that.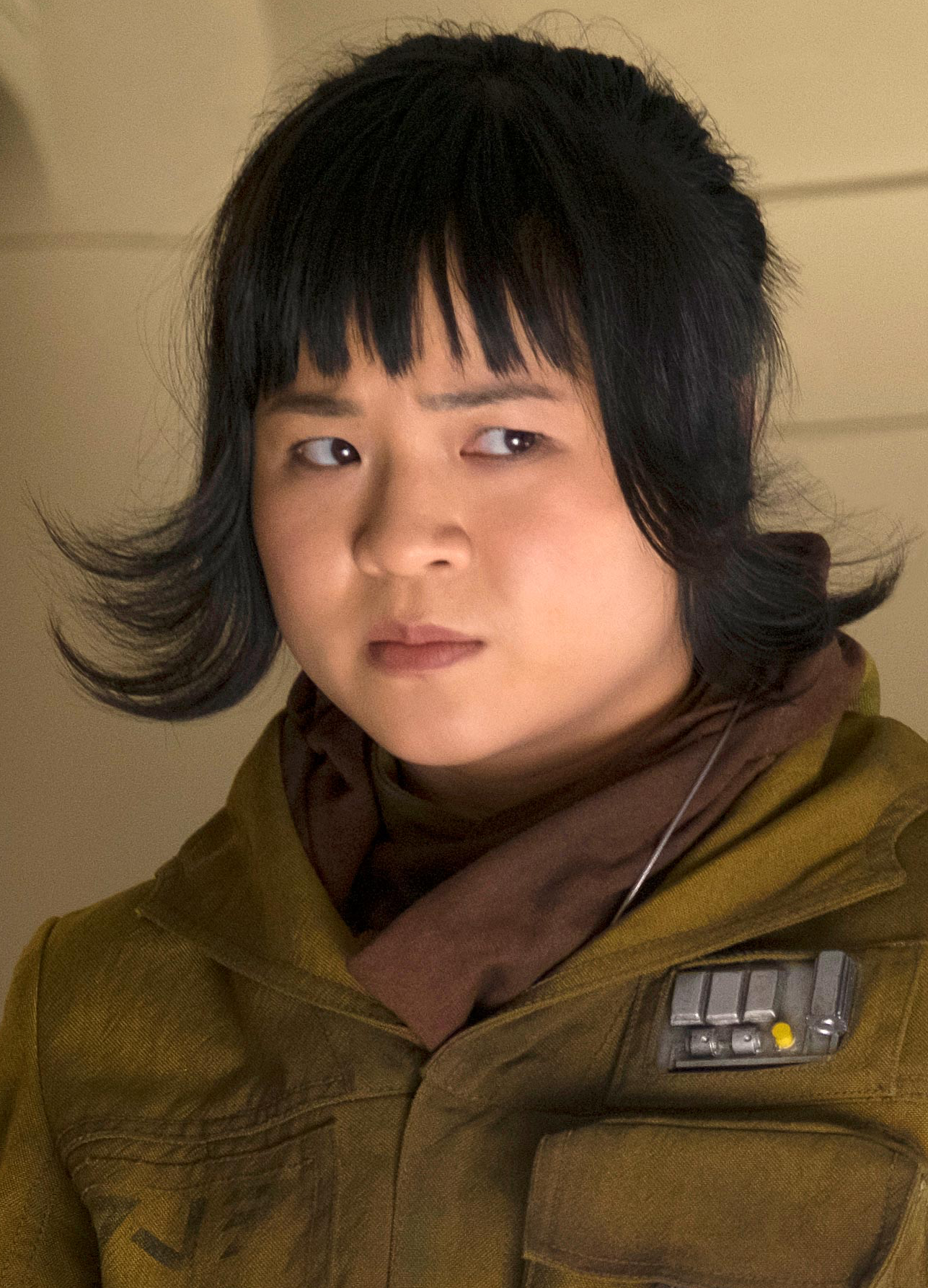 Characters, where do I begin? Rey doesn't appear to have changed, but now she's even more determined to learn the ways of the force despite Luke's reluctance to train her at first. (more on that in just a moment) Plus, she will stop at nothing to redeem Kylo Ren who is just as stubborn as ever. Finn still has a desire to run away from the First Order. Now, Rose is a new character who a lot of people seem to hate for some reason. I didn't mind her, she's just one of those who's trying her best to do what she can. It was her actor's birthday a few days ago as I write this, and she was getting so much hate. I don't care what your reason for hating the character is. It's wrong to harass the actor on their birthday or at any time of the year just because you don't like the character. Anyway, yeah she was decent and it's all about Disney trying to bring in the diversity: get your minorities in there. Leia, I thought she was going to die but somehow used the Force to bring herself back to safety.
With Carrie Fisher's passing, I could have sworn that her time in the movie was up too. It would have sucked to be right at the beginning which would feel like an inconvenient time for her to die, so there is no win situation here. It is likely in the next episode she will be CGI or killed off from the beginning. Luke on the other hand, I felt like after ROTJ he'd have a sense of wisdom but instead he acted like a jerk. Can't say I blame him, if I tried to rebuild something big and then it all got destroyed, I'd probably not want anything to do with it ever again too.
Parts in this movie, some were good and some were meh, but before I get to that, there is an issue I will have to address despite how much I am dreading the task. But since this is a review, I'll have to whether I like it or not: Porgs.


Let's get this part over with. TLJ introduces us to the porgs: A crossover between puffins and penguins native to the planet Ahch-To where Luke lives in solitude on an island. The first time I saw them was in the official trailer where one was riding in the Falcon with Chewie and started squealing. I don't know why, but I had a hunch that this was going to go from something little to something gigantic in less than a month, and I was right. Memes were born of the critters and merchandise swarmed the stores before the movie even hit theaters. I just looked at the porgs and just, they weren't that cute to me. There I said it, surprised eh? You'll be like: "How can you not? Look at those big buggy eyes and chubby body!" Maybe my taste in cute things is different. At first I didn't particularly like them, but that slowly declined to full-on hatred the more I saw them marketed, the more I saw people obsessing over them, and the more I saw the franchise focusing on posting them as often as possible to get us to ogle and swoon. It's pretty hard to ignore something you hate when you see it everywhere, but I try anyway. I think whenever I'm not fond of something, and I keep seeing and hearing about it everywhere, the more I begin to dislike it until I loathe it. This is exactly how I feel about the Super Bowl. (note to self, start plan to go Internet-dark the moment the first commercial related to it airs and I stumble upon it, or maybe I'll have to do that now because some of my friends are already starting to talk about it)
But again, this is Star Wars we're talking about; the franchise has been driven by selling toys since before I was born. When I was a kid, I had a bunch of colouring books and began to see the influence once The Phantom Menace came out. But, it seems that once you become an adult, and if you're not into collecting these things, you're going to wish that they would focus on making better movies. Some people, including some movie reviewers I follow, will argue that they find porgs adorable and that's it. Probably because it brings me to the other main point why I hate them: The don't do anything. I guess the reason for that opinion is because when I saw ROTJ as a kid, the Ewoks who were also cute, did something; they helped the Rebels defeat the Empire on their home planet. Now, not everyone likes that. Some people hated it how the Ewoks interfered too much, that's why they end up liking the porgs.
However, you know me, I don't like something that gets marketed all over the place and only serves as eye candy. Just like the women in the Transformers movies. Now, I understand that they couldn't just cut them out because the island they filmed on, was practically a puffin sanctuary, but still. I guess it's safe to say that since I grew up with cute creatures like Ewoks and Jar Jar doing something to help, I didn't like it if any eye candy just fooled around and batted their eyes to make us go "awww". But hey everybody is different. So, one last thing, since I don't like porgs, I was pretty pissed that Chewie didn't eat the one he cooked. I'd gladly eat one in his honor and I don't care if anyone (especially vegans) call me a murderer for it. I love meat!
Anyway, that's more than enough about that, moving on.
Many will argue that this quest Finn and Rose go on to find someone to disable the tracking device wasn't necessary. I mean, couldn't they just find where it's attached on the ship and find a way to remove and destroy it? Why do they have to travel all this way to find someone to do it for them? It's almost like everything pauses when this part begins. Not saying I hated it, but still, that's what it felt like. Also what was the point of freeing all those giant-goat creatures aside from escaping the authorities? Oh I know, did they throw it in there to send a message against animal cruelty? Yeah probably something to prevent the zealots/killers in PETA from campaigning against it.
This battle was quite interesting. In fact, it reminds me of the part in The Curse of the Black Pearl, when Will, Elizabeth, Jack and the rest of the crew just use whatever they can get to ward off Hector. We have an abandoned rebel base with old speeders and that's pretty much all we've got. Not sure why they plunge into the ground, or why everything is so red in this movie. No really, there's lots of red. But yeah this was a part where I prayed the cannon would not destroy the door that was the last thing keeping the surviving Resistance safe. Clearly not, but at least they finally escaped after this.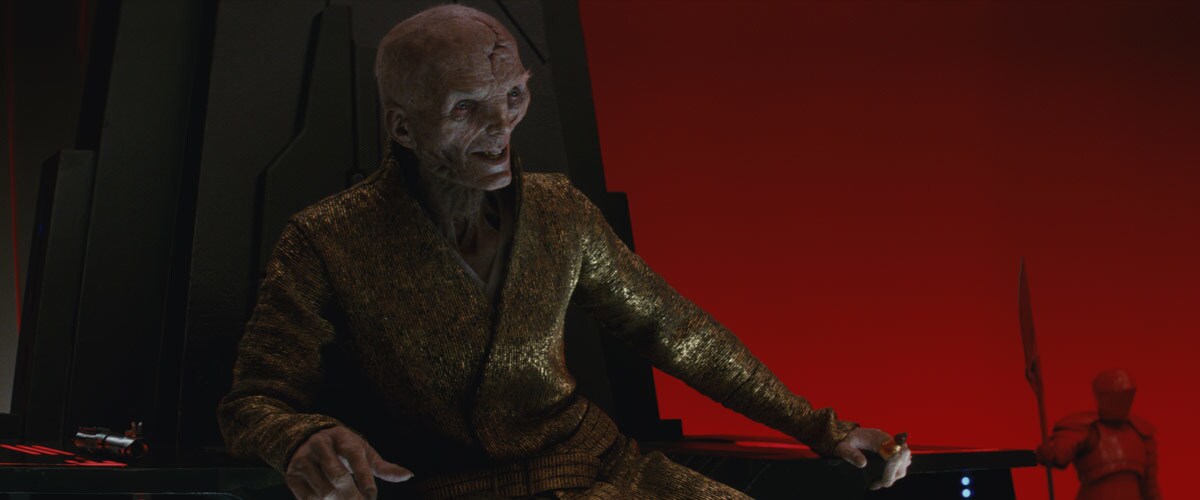 Last but not least, villains. I didn't expect Snoke to be human-sized, but then again we never saw him appear in person in the previous film. I just remember having ROTJ deja vu watching this. I was like "Shouldn't this come in the next movie?" nope, let's bring it in early and realize that Snoke was just a pawn all along. I was quite shocked in the theater when Kylo decided to kill him the way he did and took over. But before that, you guessed it, Rey tried to make Kylo turn until Snoke tortures her. This is very familiar, but it didn't feel as epic as what happened in ROTJ. I'm not saying this is because of potential nostalgia blindness, I'm saying this because of the way I felt it was played out regardless of my feelings toward comparing the two scenes from both movies. I don't know, I guess the ROTJ version of a scene like this was better. But, the OT wasn't perfect either.
So, in summary, The Last Jedi definitely does stand out compared to the others and especially its predecessor. There are lots of twists, some shocking good and bad. But I still wouldn't say I enjoyed every aspect of it. There were a lot of things I was like  "Uh, what?" over, but maybe I need to watch it again to let some things grow on me. I try to keep an open mind and once I see it again, maybe some things will change the way I view them, or some of them won't.
With that being said, I'll give it a B-. It was still good to some extent. If you loved it, that's great, if you hated it, that's fine, but don't go bashing and insulting people who loved it, because I've been seeing it in the community and it's even worse this time.
I think it's time to crawl into my cave until you-know-what is over, and good thing I can still come here and will also have my placement to distract me. 
👽Emily