Well, hello primitives.
It's a fine late Saturday afternoon as I type this and I have made it through the first week. I spent this morning doing one of my minor ailment worksheets and then studying OTC drug names after going for a walk to the nearby festival.
I think it's time I share a little update of what's going on in my life.
So, where do I begin? Well, I'm broadening my horizons:
As of early August for the hell of it, I installed Geometry Dash onto my Steam account after I saw how colourful it was and decided to give it a go since it was so cheap.
I was scared at first because of all the stories of people sharing in their reviews how difficult it was.
Yeah, that looks insanely hard
But eventually, I started playing and yes, those scary stories were true. At times you'll feel like breaking the controller or slamming your fist on the desk. I think this game is trying to teach us how to be emotionless. It has also taught me to appreciate and even enjoy music genres like EDM and dubstep. Seriously, the soundtrack is pretty great; some songs are a bit weird, but yes there are a few that I found catchy like the one for the Polargeist level. I'm not into this type of music, and it's not something I'd put on my iPod, but this game has made me realize that the genre is not as bad as some people claim it to be.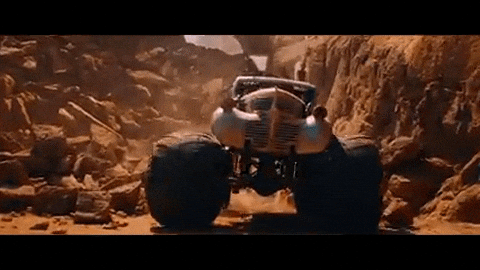 Shiny and chrome
It feels like only yesterday, but I remember last year I sat in the basement to watch the Academy Awards with my mom. I became intrigued once I witnessed Mad Max: Fury Road win more than one that night. So, not long after that, I decided to watch the movie to see how great they claimed it to be. I had no clue what it was about at first: everything was so fast-paced but in spite of that, I enjoyed it. The lead female Furiosa is another strong woman that captures the media's attention and the wives of Immortan Joe may look like sex objects, but you'll find they help in the conflict more than you realize. Plus, I don't think I've ever seen any action films with special effects that actually look this…well….good. I mean, the action in Wonder Woman was awesome too, but before that, damn!
Then of course there is Immortan Joe himself, hence the gif. Another badass villain like a warlord to add to my list of favourites. One of my favourite cosplayers did him and it looks sick. I tell you this, if I have a dream related to this movie, I'm writing about it here! Until then, I might as well check out the older films. There are not many dystopian-themed movies that I come to love, and maybe this franchise might become a potential once I dig deeper. I should have written this portion last year but I got sidetracked and was reminded to write it once I watched it again last night.
Tonight I'm going to go down to Kerr fest for dinner, and may I be carried to the gates of Valhalla or fail at the 100th attempt to jump to that one ledge.
👽Emily